TalentMatch Company Speed Dating with Tietoevry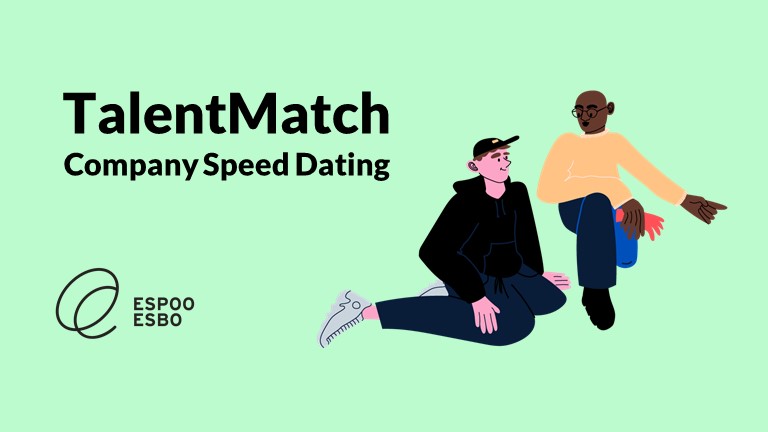 Time
24.8.2022 klo 11.00–13.00
Organizer
The City Vitality Sector
TalentMatch Company Speed Dating is an online recruitment event produced by City of Espoo. The event starts with a company presentation, followed by 8-minute interviews per student.
Our August event is organized together with Tietoevry. They are looking for graduates for their graduate program 2023. Descriptions of the program:
We are now recruiting graduates for the year of 2023 in Finland who want to be a part of shaping the future today! Become a part of our team consisting of 24,000 experts globally, helping businesses and societies meet their full potential – while you are also reaching yours.
The Program
In the Specialist Track, you are offered a permanent position in one of our teams and will be a part of the Graduate Program alongside your everyday role. The Graduate Program will give you a comprehensive introduction to our company and culture, as well as markets and customer projects. On top of that our Graduate program offers networking and development opportunities with your fellow Graduates.
Possible positions include: SW developer, DevOps, Project Manager, Data Analyst, Data Engineer, Solution Consultant, Business Analyst, SAP, Public Cloud Engineer, Security, AI, Business Developer, ITSM Specialist, and more!
What we offer
Once onboard, you will get full access to a personal mentor, Nordic graduate networking events, young professional network activities & gatherings, you are immediately enrolled into our well-established learning communities and experience from collaborating with multiple digital disciplines. Apart from this, we offer:
• Professional and personal growth. We believe that learning and growing together helps us to become better every day. You get to challenge yourself as you will get onboarded to work in our tech company with the support of your leader, team, and personal mentor. You will also have your own buddy as a trusted friend!
• Community of professionals and friends. Ask anyone, the number one reason to join us is people! You will have a chance to build your network across the company through our Learning Communities and together with other graduates through our Young Professionals Community!
• Genuinely impact our society's future by working on meaningful projects that will impact millions of people. You get to influence how digitalization serves millions of people, today and tomorrow. We work with customers of all sizes, and both in the private and public sectors.

Who might you be?
We are looking for people with a background or competence in tech-related fields. You get to work with a range of different technologies, from UX Design, AI/robotics, software development (Java, .Net) business intelligence, and so much more. More specifically you:
• Have recently graduated, or you are about to graduate from your final year of studies.
• Have a minimum of a bachelor's degree within specific tech-related subjects, For example, Programming, Data engineering, Informatics, and information processing. We are also interested in wider IT-related competencies, such as; Information Systems Science
• Are fluent in English. (Many Graduate positions require fluency in Finnish, and this will therefore be an advantage)
Location?
We are in many locations in Finland so you will have the opportunity to specify your desired locations when you apply! You can choose multiple locations and we will match you with open graduate positions based on your answer.
Tietoevry creates purposeful technology that reinvents the world for good. We are a leading technology company with a strong Nordic heritage and global capabilities. Based on our core values of openness, trust and diversity, we work with our customers to develop digital futures where businesses, societies, and humanity thrive.
Our 24,000 experts globally specialize in cloud, data, and software, serving thousands of enterprises and public-sector customers in more than 90 countries. Tietoevry's annual turnover is approximately EUR 3 billion and the company's shares are listed on the NASDAQ exchange in Helsinki and Stockholm, as well as on Oslo Børs.
www.tietoevry.com
Please register to the event by August 17th, 2022. You'll receive a separate link to virtual event platform and instruction on August 18th. On virtual event platform you will create your own event profile and Tietoevry will review all the profiles beforehand and choose the candidates they hope to meet in an interview on the event day.
TalentMatch Company Speed Dating is part of the National Talent Boost programme.