Golden Calf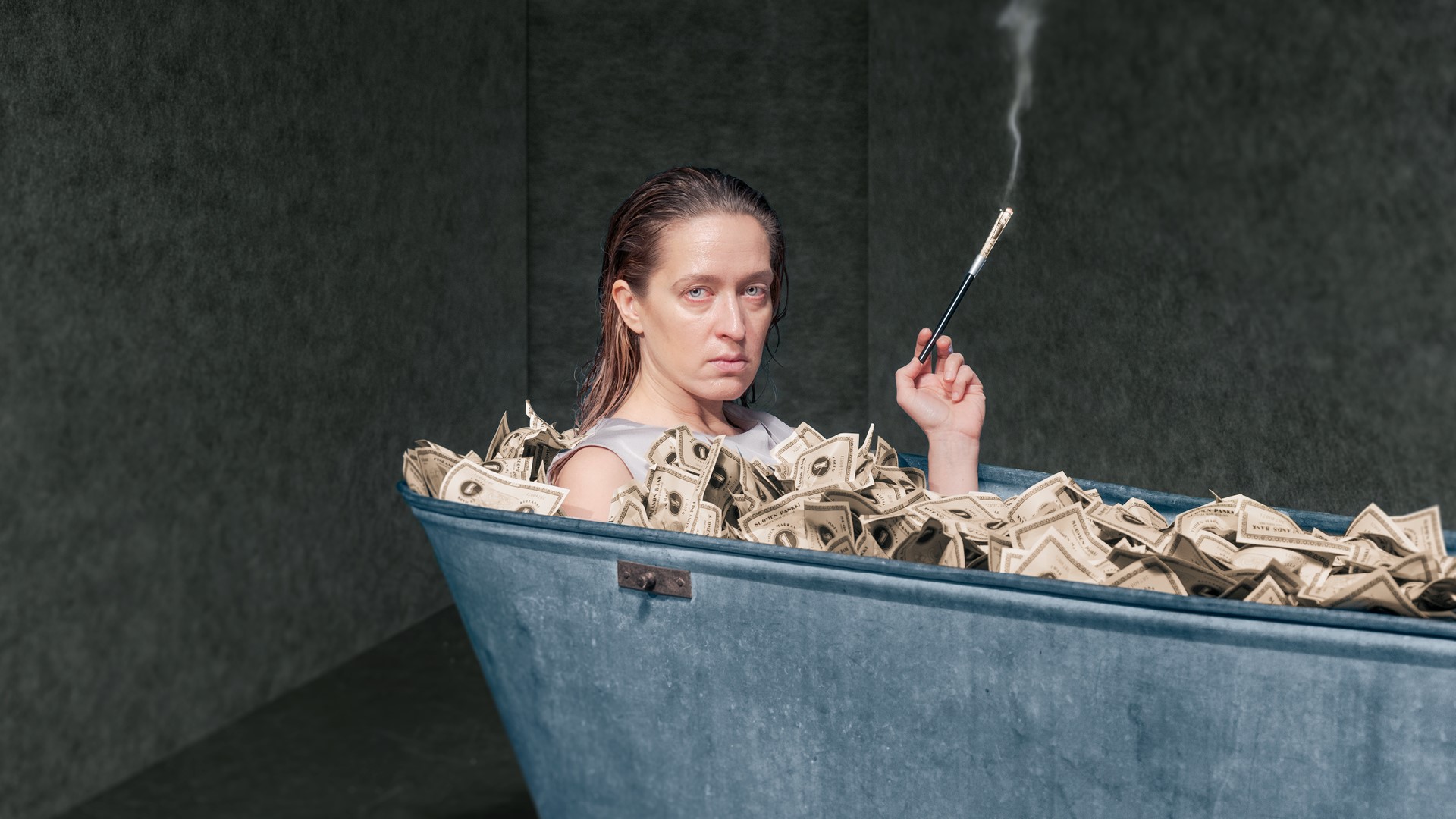 Time
22.9.2021 klo 16.00 – 16.11.2021 klo 19.30
Organizer
Espoon Kaupunginteatteri
Price
39 / 36 / 20 € + delivery fee from 1€ Standard/ Retired / Students
The Golden Calf is a story about Eedit and her family in flux. Newly opened stock exchange holds promise of overnight riches, and an escape from encroaching poverty. Katariina, the mother, begins to speculate to accumulate, and the rest of the family follow suit.
And why wouldn't they? Stock prices are rising sky-high, soaring into the heavens like the souls of dearly departed. Frenzied speculation fever infects each family member in turn. Soon, the formerly thrifty bourgeois household is awash with cash.
But then what happens? In no time, in their dogged pursuit of ever greater riches, these familiar characters of this classic Finnish comedy turn into fodder for human stock trading. Relationships become investments that are made on purely transactional basis, while love is bought and sold, for gain or at a loss.
It is all very funny. We laugh like there's no tomorrow. But the laughter is dry, like pandemic cough, and just as impossible to stop, it just goes on and on.
Maria Jotuni's The Golden Calf premiered in 1918 when the acrid stench of rotting bodies in the Prisoner of War camps and the trenches was wafting over Finland and Europe. At that same time, the first wave of the Spanish flu began to wash over the world. Jotuni chose to make sense of wretched scheming amid the acute shortages by transforming sheer misery into pure comedy. Critical laughter allows for processing of, and bearing, history's twists and turns.
The performance is Espoo City Theatre and the Finnish National Theatre's joint production, featuring some of Finland's finest acting talent: Elsa Saisio, Janne Reinikainen, Pirjo Luoma-Aho, Petri Manninen, Terhi Suorlahti, Harri Nousiainen, Karin Pacius, Chike Ohanwe, and Misa Lommi. The performance is directed by Erik Söderblom, with set design by Kati Lukka, light design by Petri Tuhkanen, and costume design by Tarja Simone.
Premieres at Espoo City Theatre's Revontulihalli on Sept 22, 2021.
Tapiola
theatre (art forms)